PEZA Releases Requirements on Travel Ban Exemption for Foreign Nationals in the Philippines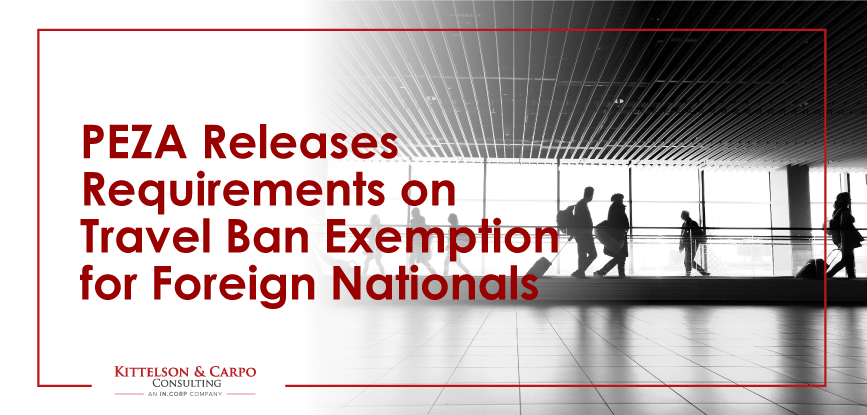 The Philippine Economic Zone Authority (PEZA) released Memorandum Circular (MC) No. 2020-0035 indicating the requirements for submission of request for travel ban exemption for foreign nationals.
TRAVEL BAN EXEMPTION
The Department of Foreign Affairs (DFA), via Foreign Service Circular (FSC) No. 29-2020 released on March 9, 2020, issued a temporary travel ban upon suspension of visa issuances due to the implemented safety measures against COVID-19. However, foreign nationals may be exempted from the travel ban depending on the case.
Travel ban exemption may only be requested by PEZA enterprises based on the following:
Essential reasons

Emergency reasons
The intention of the applicant shall be stated upon request for the exemption.
REQUIREMENTS ON REQUEST FOR TRAVEL BAN EXEMPTION
PEZA companies shall attach the following requirements to the letter-request:
Foreign national's passport biopage

Department of Justice (DOJ) Indorsement, as applicable

Ticket copy, if available
SUBMISSION OF REQUIREMENTS
The applying PEZA company shall address the letter-request to the Director-General indicating the following:
Name of the foreign national

Intent for the travel ban exemption request
PROCESSING TIME
The DFA will process the application for a week after PEZA endorsement. The processing shall assess if the documents presented are complete and the purpose for request of travel ban exemption is justifiable.